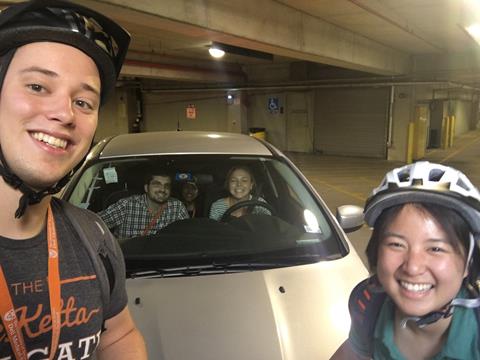 Learn how Karena commutes smarter, helping our region reduce traffic congestion and vehicle emissions!
"Hi everyone! This summer, I commuted from my apartment near the UT Austin campus to my internship with Merck at the Dell Medical School. I usually biked, but sometimes I carpooled with my fellow interns when the weather was less friendly (shout out to Izzy, Cole, Shreya, and Nick for getting me through the summer!). I mainly chose to use sustainable commute methods because I dislike driving (and parking on UT's campus can get expensive!).

At fifteen minutes, my commute was pretty short, and I enjoyed starting my day with a quick bike down the Austin hills to work. Of course, going home was a challenge because I had to ride back UP those same hills! I'm a weak biker, so I'd often just get off my bike and push it up the really steep ones! If anyone is thinking about biking to work but is also intimidated by hills, I hope it's comforting to know that I'm somewhere out there living the struggle too!"
Thanks, Karena! Commute Solutions hopes that your story will inspire others to give it a try.