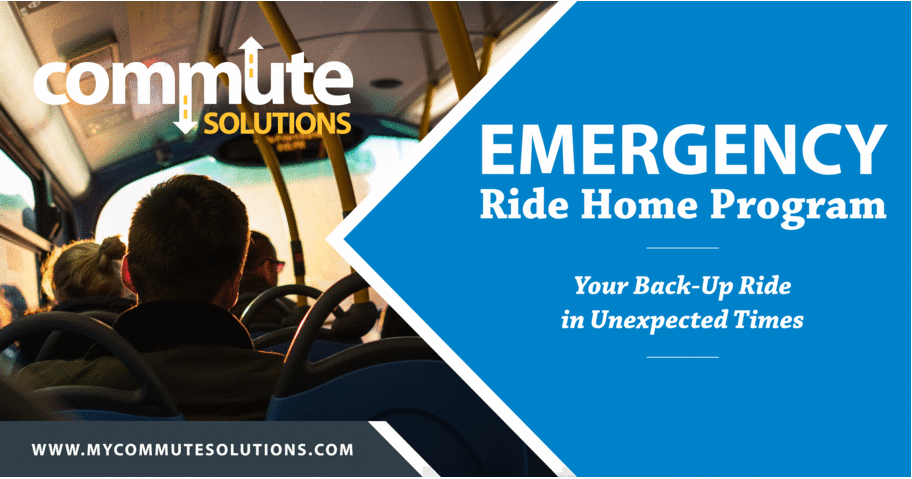 The Commute Solutions program is excited to now offer a regional Emergency Ride Home (ERH) program to provide sustainable commuters a free or reduced-cost emergency ride home from work.
In order to qualify, the commuter will need to log carpool, vanpool, public transit, bicycle or walking commutes into the myCommuteSolutions.com and having a qualifying emergency event. Commute Solutions will reimburse "emergency rides home" for qualifying users up to a maximum of $75 per ride.
If a myCommuteSolutions user is unable to travel home (or to an emergency situation location) using the mode of travel they used to get to work, they may be eligible to receive a reimbursement of up to $75 to pay for the travel expenses. Learn how to request reimbursement:
Review the eligibility requirements below to make sure you qualify for the program.
Complete the Reimbursement Request Form
Send a copy of your travel expense receipt to acox@capcog.org. Email must include your name and receipt with the total cost of the emergency travel, date and time of the purchase.
Commuters must have a myCommuteSolutions account (or a Smart Commute Reward account for City of Austin employees*)
Log trips on myCommuteSolutions* - You must log a qualifying mode at least once on the myCommuteSolutions site in the 7 days prior to an emergency circumstance (i.e., if you have an emergency on Tuesday, July 17, 2018, you would qualify for an emergency ride home if you logged at least one qualifying round-trip commute from Tuesday, July 10 – Monday, July 16).
Use a qualifying travel mode including:

Carpool
Vanpool
Walk
Bicycle
Bus
Rail

Live or Work in the Program Service Area - Origin or destination of the qualifying commuting trips must be located within the Commute Solutions Emergency Ride Home Program Service Area, which includes Bastrop, Blanco, Burnet, Caldwell, Fayette, Hays, Lee, Llano, Travis, and Williamson counties.
Have a qualifying emergency circumstance:

Personal or family emergency (e.g., break-in at home, home maintenance emergency, child suspended from school)
Personal or family illness
Unscheduled overtime
Typical commuting mode becomes unexpectedly unavailable (e.g., vanpool vehicle breaks down)
Non-routine transit delays (i.e., 20-minute delay or more)

Non-qualifying circumstances may include:

Pre-arranged appointments, such as visits to the doctor or dentist
Work-related travel, such as rides to the airport or business meetings across town
Rides to work
Routine transit delays (5 minutes or less delay)
Overtime that occurs regularly or scheduled in advance
Transportation to a hospital or doctor's office following an on-the-job injury.
*City of Austin employees are eligible for the Commute Solutions Emergency Ride Home program if they log their trips on Smart Commute Rewards and meet all other eligibility requirements listed above.
Frequently Asked Questions
Who can provide me with a ride home?
Commuters can select any transportation mode including Ride Hail or Taxi, Ride Share (Uber, Lyft, Ride Austin, etc.), Rental Vehicle (Car, Bike, Scooter), Transit, Car Share (Car2go, Zipcar), and a Company Fleet vehicle.
If I tip my driver will I be reimbursed for the tip?
No, Commute Solutions cannot provide a reimbursement for any tip provided.
What if an emergency trip costs more than $75? Am I eligible for a trip reimbursement?
Yes, you are eligible for a reimbursement up to $75 if you have met all reimbursement requirements.
What if I need a ride to work?
Rides to work are not eligible for trip reimbursement.
I am signed up for Capital Metro's Guaranteed Ride Home Program, can you request reimbursement from the Commute Solution Emergency Ride Home program?
Yes, however, the Commute Solutions Emergency Ride Home Program will only cover the reimbursement cost that is ineligible for reimbursement under Capital Metro's program. Commute Solutions Program staff will verify with Capital Metro if a user is enrolled and if they are or are not eligible for reimbursement under the program.
I need to make a stop at my child's school, spouse's workplace, or the hospital before going home. Can I be reimbursed for the stops related to my emergency trip?
Yes, stops related to an emergency trip are eligible for reimbursement up to $75.
I am a part-time or contract worker. Am I still eligible for the program?
Yes, you are eligible for the program if you are registered on myCommuteSolutions and logged a qualifying trip within the 7 days prior to your emergency event.
What is considered a qualifying trip?
Qualifying trips include:  Carpool, Vanpool, Transit (Bus and Rail), Bike, and Walk.
I lost my receipt. Can I still have my trip reimbursed?
Unfortunately, requests without a receipt are ineligible to receive reimbursement.
Users may be reimbursed no more than 7 times per calendar year. Any rental car charges incurred after 24 hours will not be reimbursed. Reimbursement requests without a receipt cannot be honored – make sure you get a receipt from your transportation provider. Requests do not guarantee payment. Any inappropriate use of this program will be at the employee's expense and jeopardize future eligibility for the program. Reimbursements are only offered while funds are available. The program may be changed at any time without notice. The Commute Solutions Emergency Ride Home Program is administered by the Capital Area Council of Governments. Personal information shared us will not be shared, sold, or distributed with third party organizations. This program is possible thanks to contributions from the City of Austin.
This page is also available in: Español (Spanish)