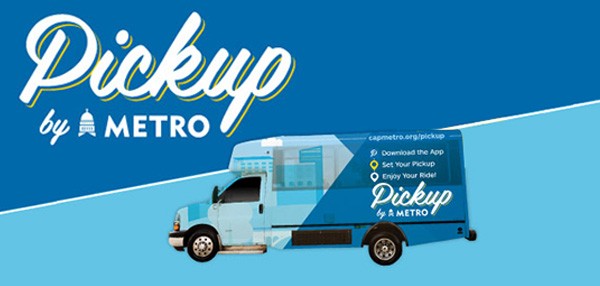 Say Hello to Pickup!
Capital Metro has brought ride-hailing to public transportation. With the Pickup app, you can arrange on-demand transit service from your home to an appointment, a shopping trip or anywhere within its service zone. All for just $1.25, the same as MetroBus and MetroRapid!
Service Area
Pickup serves four service zones in Austin: East ATX, Exposition, Northeast ATX and Walnut Creek, as well as the city of Manor (including the Shadowglen, Carriage Hills, Presidential Meadows, and Wildhorse Creek subdivisions). Maps for all Pickup service zones are at capmetro.org/pickup.
When does it operate?
Pickup by CapMetro operates differently for each zone. Generally, it runs weekdays from 7 a.m. to 7 p.m., but some zones offer different service days and hours. Check campmetro.org/pickup to see when your service is available.
How long is the wait?
The goal is to pick you up within 15 minutes. Most of the time, it'll be sooner than that, but you'll always get an accurate estimate of your pickup time before booking. You can also track your car in real-time in the app.